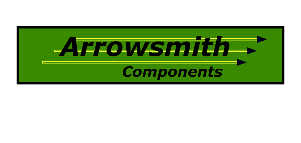 Triple
ACE
X10


For further information please contact by text or email.
Arrow points to custom weights, and for Flight archery
can be supplied on request.
Text to 07815068111
Or email -
contacts@arrowsmith-components.co.uk
A Short History
We started manufacturing points and pins for the Cartel Triple range of arrows in 2006.
These were a development of parts I had made for my own 800 spine arrows.
In 2009 a range of points and pins for the Easton ACE was introduced, this has proved to be our highest selling range.
A further addition in 2010 was the introduction of a point range for the Easton X10.
Intended to give a robust point solution combined with a tungsten shank, offering a high "Front Of Center" percentage.
I started developing points for Flight Archery for myself in 2011. We now offer a range of production points for customers on a made to order basis.